John Hurley (Chief Technology Officer)
John Hurley was appointed Ryanair's Chief Technology Officer in September 2014. He joined Ryanair from Houghton Mifflin Harcourt, where he was Vice-President of Engineering & Product Operations, having served as Director of Product Operations, Director of Platform Development and Software Development Programme Manager. He was previously Production Manager at both Intuition Publishing Ltd and Education Multimedia Group and has 16 years' experience in the IT industry.
Juliusz Komorek (Group Chief Legal & Regulatory Officer; Company Secretary)
Juliusz Komorek was appointed Company Secretary and Chief Legal and Regulatory Officer in May 2009, having served as Deputy Director of Legal and Regulatory Affairs since 2007. Prior to joining the Company in 2004, Juliusz had gained relevant experience in the European Commission's Directorate General for Competition and in the Polish Embassy to the EU in Brussels, as well as in the private sector in Poland and the Netherlands. Juliusz is a lawyer, holding degrees from the universities of Warsaw and Amsterdam.
David O'Brien (CEO Malta Air & Joint CEO Lauda)
David was appointed CEO of Malta Air in November 2020 and Joint CEO Lauda in April 2020, having served as Ryanair's CCO since January 2014. Prior to that David was Ryanair's Director of Flight and Ground Operations from December 2002. A graduate of the Irish Military College, David followed a military career with positions in the airport sector and agribusiness in the Middle East, Russia and Asia..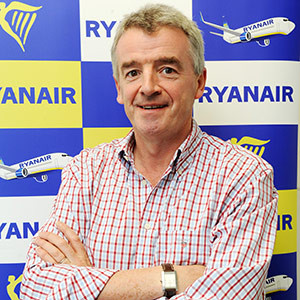 Michael O'Leary (Group Chief Executive Officer)
Michael O'Leary has served as a director of Ryanair since 1988 and a director of Ryanair Holdings since July 1996. He was appointed Chief Executive Officer of Ryanair in 1994 and moved to Group Chief Executive Officer of Ryanair Holdings plc on April 1, 2019
Carol Sharkey (Chief Risk Officer)
Carol Sharkey was appointed Chief Risk Officer of Ryanair in May 2018, having previously served as its Director of Safety & Security. Carol has been with Ryanair since 1995 and  held roles in inflight, flight operations and most recently the flight safety department
Neil Sorahan (Group Chief Financial Officer)
Neil Sorahan was appointed Chief Financial Officer of Ryanair in October 2014, having previously served as its Finance Director from June 2006. Prior to that, he was Ryanair's Group Treasurer from January 2003. Before joining Ryanair, Neil held various finance and treasury roles at CRH plc, the international building materials group (June 1992 to December 2002).
Eddie Wilson (CEO Ryanair DAC)
Eddie Wilson joined Ryanair in December 1997, as Head of Personnel. In December 2002, he was appointed Director of Personnel and In-flight and on September 1, 2019, Eddie was named CEO of Ryanair DAC. Prior to joining Ryanair, he served as Human Resources Manager for Gateway 2000 and held a number of other human resources-related positions in the Irish financial services sector.
Tracey McCann (CFO Ryanair DAC)
Tracey was appointed Ryanair CFO in January 2020 having previously served as Ryanair's Director of Finance (FP&A). She joined Ryanair in 1991 and has held various senior finance roles.
Michal Kaczmarzyk (Buzz CEO)
Michal was appointed CEO of Buzz in April 2017. Prior to joining Buzz, Michal served as the General Director of the Polish Airports State Company and CEO of Warsaw Chopin Airport. A former CEO of LS Airport Services and supervisory board member of Euro LOT Airline, Krakow Airport and Gdansk Airport, Michal also held roles with the Polish Industrial Development Agency, the Office of Competition and Consumer Protection and PwC.
Andreas Gruber (Lauda Joint CEO)
Andreas was appointed CEO of Laudamotion by Niki Lauda in early 2018. Prior to that, he held various operational and commercial roles within the airberlin Group. Andreas remained as CEO of Lauda following its acquisition by the Ryanair Group and is currently Lauda's Joint CEO.
The following table sets forth certain information concerning the executive officers of Ryanair Holdings and Ryanair.
| Name | Age | Positions |
| --- | --- | --- |
| John Hurley | 46 | Chief Technology Officer |
| Juliusz Komorek | 43 | Group Chief Legal & Regulatory Officer; Company Secretary |
| David O'Brien | 57 | CEO Malta Air & Joint CEO Lauda |
| Michael O'Leary | 59 | Group Chief Executive Officer |
| Carol Sharkey | 46 | Chief Risk Officer |
| Neil Sorahan | 49 | Group Chief Financial Officer |
| Edward Wilson | 57 | CEO Ryanair DAC |
| Tracey McCann | 46 | CFO Ryanair DAC |
| Michal Kaczmarzyk | 42 | Buzz CEO |
| Andreas Gruber | 36 | Lauda Joint CEO |